Providing the animal-health community with science-backed solutions.
NEW! Re-Covr™ (Rx) Tripelennamine Hydrochloride Injection
FDA approved, fast-acting antihistamine for cattle (beef & dairy) and horses
ECO-SAFE FORMULA • ALL NATURAL
EquiShield® FG - Fly Guard
Available in a Salve, Spray and Roll-On, EquiShield® FG is a natural repellent used to repel ticks, biting flies, mosquitoes and gnats.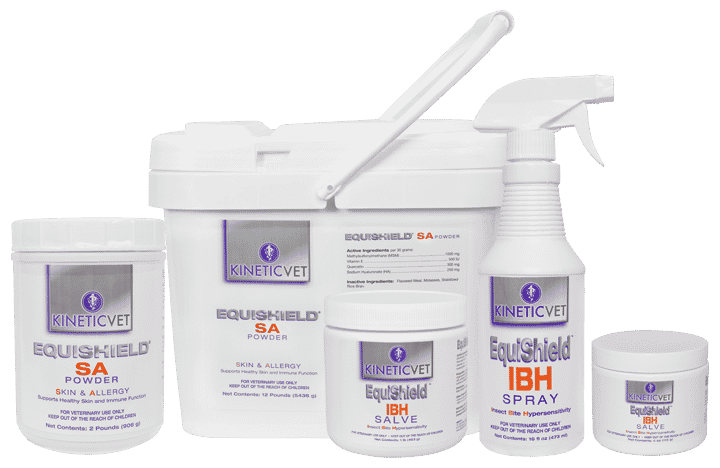 Trouble Controlling Skin Allergies?
"I LOVE MASS Builder; we give it to our hard keepers and young colts to keep weight on when we start riding them. Huge results."
Haley Wolfe
Barrel Rider
"It's been exactly one year since we started Chip on EquiShield SA. He went from battling weekly bouts of hives and allergies to only ONE minor case this year that lasted less than 24 hours. One!!! I can't even begin to describe how thankful I am to have found Kinetic Vet."
Evan & Chip
Ky Farm
"During the spring branding season, my horses are in all kinds of weather and terrain, which subjects them to a variety of skin and allergy irritations. The Kinetic SA and IBH lines have helped with those issues better than any product I've tried."
Buster Frierson
Rider